Hi readers!
August is marching along, so that means that September book releases are coming!! Including…IRON WIDOW by Xiran Jay Zhao 👀. Thank you to Caffeine Book Tours for selecting me and my blog as one of the hosts, and here is the launch post about the tour and the other hosts!
When I say you're not ready for this book, you're not ready for this book, but, at the same time, you need this book! So without further ado, here is my IRON WIDOW review, plus some fun quote graphics at the end ~
The boys of Huaxia dream of pairing up with girls to pilot Chrysalises, giant transforming robots that can battle the mecha aliens that lurk beyond the Great Wall. It doesn't matter that the girls often die from the mental strain.

When 18-year-old Zetian offers herself up as a concubine-pilot, it's to assassinate the ace male pilot responsible for her sister's death. But she gets her vengeance in a way nobody expected—she kills him through the psychic link between pilots and emerges from the cockpit unscathed. She is labeled an Iron Widow, a much-feared and much-silenced kind of female pilot who can sacrifice boys to power up Chrysalises instead.​

To tame her unnerving yet invaluable mental strength, she is paired up with Li Shimin, the strongest and most controversial male pilot in Huaxia​. But now that Zetian has had a taste of power, she will not cower so easily. She will miss no opportunity to leverage their combined might and infamy to survive attempt after attempt on her life, until she can figure out exactly why the pilot system works in its misogynist way—and stop more girls from being sacrificed.

FIND IRON WIDOW: Amazon | XOXO, Sierra (book box) | Penguin Random House Canada
Author: Xiran Jay Zhao
Cover: Ashley Mackenzie (artist)
Publisher: Penguin Teen Canada
Publication Date: September 21, 2021
Genre: Young Adult, Fantasy, Historical Fiction, Science Fiction
On-page Representation: POC (East Asian, LGBTQ+ (bisexuality, polyamory)
Rating: 4.5 🌟
Trigger and Content Warnings: Violence and abuse, foot-binding, suicide ideation, discussion and references to sexual assault (no on-page depictions), alcohol addiction, and torture
*I received an Advanced Reader's Copy of this book from the publisher and Caffeine Book Tours as part of my participation in their tour
This book!! IRON WIDOW caught my attention at a "reimagining of China's only female emperor Wu Zetian" because YES PLEASE (I remember learning about her in my Modern China class and major respect).
Can I just say that I am so glad my reading slump is gone now? I also have to mention that partly why reading slump is yesterday's news is because of IRON WIDOW by Xiran Jay Zhao.
Once I dove into this Chinese-inspired world of mechas with Wu Zetian at the helm, I didn't want it to end. Zetian is the feminist protagonist YA—and all of us—needs. This world is so set against her and other females, yet she keeps pushing against the males in her life who are intent on metaphorically (sometimes) beating her down into a pulp, forcing her to stop her mind from thinking and her body from freedom.
There is a semi-descriptive scene about Zetian's foot-binding *shudders* However, I think this physical disfiguration of her feet hooks into so many other parts of the story, least of all the foot-binding that was seen in Chinese culture. How can one run when they can barely walk? I think it is also important to note that Zetian uses a wheelchair through a good portion of the book!
I loved the mechas aspect (and these images from Xiran's twitter really help me to visualize them; see below!). Even without the visual aids—for example, the White Tiger—Xiran builds this world so well that its intricacies are not too difficult to follow. The mechas and piloting system were amazing channels to funnel the rage of Wu Zetian and spotlight the horrific misogyny against women that is seen too often.
On another note, the same mechas and sci-fi world creates a highly entertaining story full of twists and battle scenes that will leave you breathless. I also thought that the mental landscape pilots share were so interesting—because the two are linked, each other's memories are sometimes shared with the other party.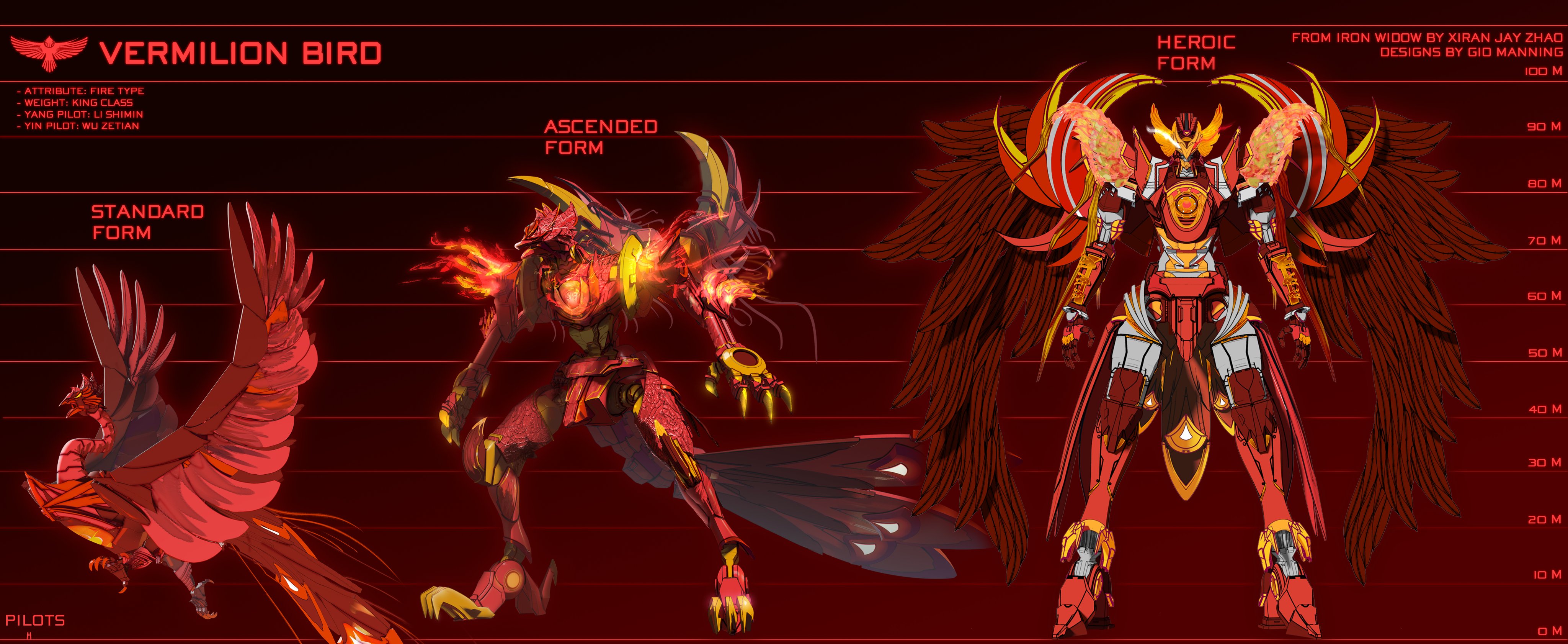 I can't talk about IRON WIDOW without talking about the poly power trio either (Zetian, Li Shimin, and Gao YIzhi)! Please, this boy Shimin, I cannot express all of my love for him (and his glasses😭). I found this romantic relationship refreshing, especially since IRON WIDOW is labeled as YA (which I agree with considering character age and voice). And, you know, this is a true "love triangle," which Zetian has said, is the strongest shape after all 😏.
The poly relationship gives readers something to think about, particularly the relationships Zetian has with Shimin and Yizhi respectively. As Yizhi mentioned, Zetian loving him does not decrease her feelings for Shimin, nor vice versa.
IRON WIDOW also cuts into how the media has a role in creating celebrities. Even in the world of IRON WIDOW, pilots fighting in the war against the Hunduns are also there for entertainment value. For the media companies, the most important part is capturing the public's attention with these "celebrities," whether you love or hate them. This side of the story reminded me of THE HUNGER GAMES, especially the scene in CATCHING FIRE where Katniss and Peeta enter the arena (that fire dress!!). There is a scene in IRON WIDOW that gave me similar vibes, and now I want to write an essay on the media and celebrities *sighs*
Lately I've been thinking about books I read and which stories they would be "in conversation" with, so I would definitely put IRON WIDOW with THE POPPY WAR and SHE WHO BECAME THE SUN. However, while the latter two are fantasy (that pulls heavily from history) and historical fiction, IRON WIDOW digs deep to dismantle the misogyny in a sci-fi/fantasy world that has lifted historical figures and planted them into this new context.
Conclusion: Highly recommend! You truly do not want to miss this force of a story.
I think Joan He (author of THE ONES WE'RE MEANT TO FIND) said it best in her blurb of IRON WIDOW—
"A searing, cinematic, gut-punch of a tale, Iron Widow is both wickedly fun and brutally incisive when it comes to the Chinese history and culture it draws inspiration from. There's no resisting Wu Zetian; once she sinks her claws in you, you'll be racing alongside her to a shocking, subversive end."
And this is another quote I loved, but was too long to make into a quote graphic:
"When you cherish someone for how amazing they are, you don't pluck them from their roots just to watch them wither in your hands. You help them bloom into the incredible thing they're really meant to be."
Xiran Jay Zhao is a first-gen immigrant from small-town China who was raised by the Internet​. A recent graduate of Vancouver's Simon Fraser University, they wrote science fiction and fantasy while they probably should have been studying more about biochemical pathways. You can find them on Twitter for memes, Instagram for cosplays and fancy outfits, and YouTube for long videos about Chinese history and culture. Iron Widow is their first novel.
Website | Goodreads | Instagram | Twitter | YouTube
August 23

A Cup of Cyanide

Lyrical Reads

Solace in Reading
August 24

B for Bookslut

It's Just A Coffee Addicted Bibliophile

Kirsty's Book Reviews
August 25

Books and Bookish

The Keysmash Blog

thisbellereadstoo
August 26

Binded By Letters

Kymiee tries to read

The Paper Reels
August 27

China Sorrows

meltotheany

Myths n' Mis-adventures
Is IRON WIDOW on your TBRs? What fall releases are you looking forward to?
Until next time,